Fundraise for Campfire Circle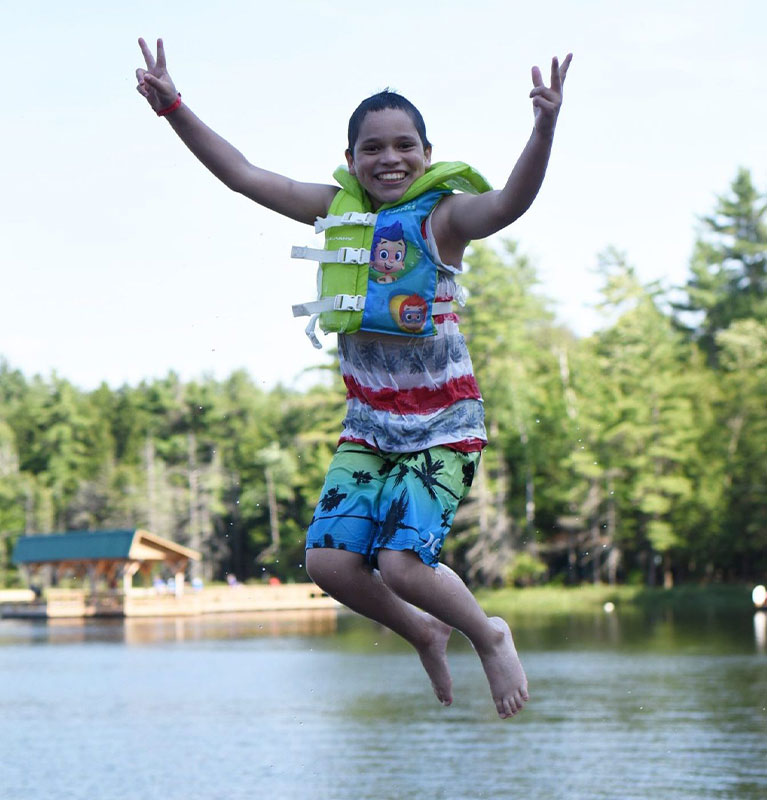 Help deliver healing through happiness to kids with cancer or serious illness and their families.
When a child is diagnosed with cancer or serious illness, it impacts the whole family. Kids miss out on simple childhood joys, household incomes are often cut in half as caregivers take on the full-time responsibility of caring for a sick child, and families struggle to make time for special experiences.
When you fundraise for Campfire Circle you are supporting in-hospital, community and overnight camp programs that create opportunities for children to build friendships and social skills, develop self-confidence and resiliency, and improve their overall well-being. Through play-based experiences, you are helping empower kids to take back their childhood, regardless of their medical diagnosis.
With your support, we can continue to offer our programs at no cost to families and grow our circle of care to provide additional play-based experiences across all four paediatric hospitals, and improve our medically supported and accessible overnight camps so that every eligible child can benefit from our innovative and impactful programs.
Thank you for helping to build a world where children thrive and families heal.
Start Fundraising For Campfire Circle Today!
Click the START FUNDRAISING BUTTON to create your personal fundraising page.
Ask for support from friends, family, and colleagues by sharing your fundraising page by email.
Share your efforts through your social networks! Facebook, Twitter, and Instagram are just some of the ways to let your network know about this incredible cause! Be sure to tag and follow @CampfireCircle_ on Twitter and @campfirecircleorg on Facebook and Instagram.
Interested in signing up as a Corporate Fundraising Team? Click here
Tips and Ideas: Reach your Sporting Life 10K Fundraising Goals

PERSONALIZE YOUR FUNDRAISING PAGE
Your supporters want to see why you run for Campfire Circle!

Reach out to your friends, family and co-workers to support your Sporting Life 10K fundraising efforts. Remember to include a link to your personal fundraising page and share why you run for Campfire Circle.

DO THE KILOMETRE CHALLENGE
Set a goal for yourself (consider completing a 10K ten times as you train for May 12) and ask that your network make a small donation per kilometer you complete.

Matching gifts from your place of employment can often double or triple your team's fundraising, giving you an advantage in the Corporate Challenge, and of course, you'll be helping reach more kids and families affected by childhood cancer or serious illnesses.

BRING A CHANGE JAR TO THE OFFICE
Set up a jar in a communal office area or at home where everyone can contribute their loose change. You will be surprised how quickly the dollars add up!

BIRTHDAY/SPECIAL OCCASIONS
Encourage friends and family to donate to your Sporting Life 10K fundraising efforts in lieu of giving gifts.

Do some spring cleaning and set up a yard sale. All proceeds can go directly towards your Sporting Life 10K fundraising.

USE YOUR TALENTS AND SELL
Whether it's making bracelets or cookies, think of a hobby or interest and turn it into a product that can be sold.

MAKE TANGIBLE FUNDRAISING GOALS
Text 10 friends asking each for $30 to help you reach your next $300!
What to do with cash and cheques received from your supporters?
If your supporters give you cash or cheques made out to you personally (NOT to Campfire Circle), follow these simple steps that will allow you to update your thermometer right away and email a tax receipt to your supporter:
Go to your personal fundraising page and hit your 'Donate Now' button
Enter the $ amount from a specific donor and in the Billing Information section enter your donor's information (their name, address, email, phone), NOT YOURS
Enter in YOUR credit card number
Once the payment is processed, the charge will be made to your credit card BUT it will be your supporter who receives the emailed tax receipt for the amount they donated